CDE Collision Centers Now Offers Auto Body Repair Hammond, Indiana
CDE Collision Centers was excited to expand into Indiana in 2009 with the opening of the Auto Body Repair Hammond facility. It was the first location that wasn't in the Chicagoland area. That called for change within itself – Chuck Freiberg, owner and CEO, wanted to open a facility where customers walked in and said, "This is a body shop?" That goal was definitely accomplished.
Location
CDE Collision Centers
Your Auto Body Repair Hammond Shop
7212 Indianapolis Blvd.
Hammond, IN 46324
Phone: 219-844-7400
Hours:
Mon-Fri 8:00am – 5:00pm
This location is on Indianapolis Blvd, two blocks North of I80-94. CDE Collision Centers updated its image with the development into Indiana. The company featured a new logo, colors, and interior and exterior design. This look was the new standard for expansion within the company. All the locations were converted to Waterborne Paint, Downdraft Spray Booths, and top-of-the-line equipment. Construction and renovation is working its way through each location as a result of this stunning facility.
Auto Body Repair Services Offered at this Location
From the moment you step into our facility, you will feel the difference. Our lobby provides a comfortable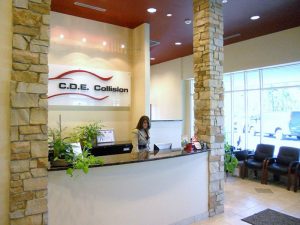 atmosphere for you, and our professional, I-Car certified staff have been dedicated to providing the highest levels of service and satisfaction since 1982.
With 16 locations, CDE Collision Centers is one of the largest, fully independent collision repair service providers in all of Chicago and NW Indiana. We offer complete auto body repair services for vehicles that have been in an accident, suffered body damage, require paint-less dent repair or auto glass replacement. As a family-owned auto body shop business, we do things differently and we are passionate about providing quality service at an affordable price. Our technicians and management team are the best in the business
Here are just a few things offered: